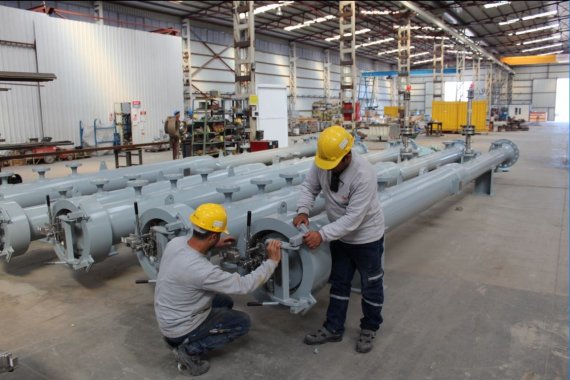 China Petroleum Engineering & Construction Corporation awarded pipeline pig launcher & receiver contract to ERGIL
ERGIL was awarded to design, engineering, fabrication, and testing contract by China Petroleum Engineering & Construction Corporation ( CPECC) for PETRONAS's Garraf Oil Field Project in Iraq.
ERGIL has completed designing, manufacturing and supplying of 12 units 320bar high-pressure pig receivers & launchers with quick opening closures in various diameters, 28 units pig signallers, 12 units manual pig jib crane and 8 units pig trolley. ERGIL Pig Receiver & Launcher with quick opening closure were designed and manufactured under the principles of ASME B31.4, ASME B31.8, and ASME Section VIII Div. 1 Codes and provides a solution for cleaning, drying, testing and displacement of pipeline systems with any size and pressure settings. Its unique design gives opportunity to use scraper pigs, sphere pigs or smart pigs. ERGIL Pig Receiver & Launcher comes with its auxiliary equipment (pig signaller/ indicator, quick opening closure, and nozzles).
" We are very thankful to take a part in Petrona's Garraf Oil Field Project again. As a Petronas prefered vendor and we have established very successful track record so far not only Garraf but almost all the prestigious project in Iraq. Our priorities were to mobilise our teams quickly and to ensure order is delivered with a focus on technical quality, on time and within budget. We have returned significant value to CPECC through our previous project execution and we took the same approach. We are proud to work for CPECC and highly appreciated for their efforts to overcome challenges for such a complicated project", said R. Oktay Altunergil, CEO of ERGIL.
Garraf oil field is located in the province of Thi Qar, only a few kilometers away from north-west of Al-Refaei city and 85km north of the city of Nasiriya. The field is owned by PETRONAS Carigali Iraq Holding (PCIHBV, 45%), Japex (30%) and North Oil Company (25%). The consortium comprising of Petronas and Japex was awarded as Operator of The Development & Production Service Contract (DPSC) for Garraf Oil Field Area)