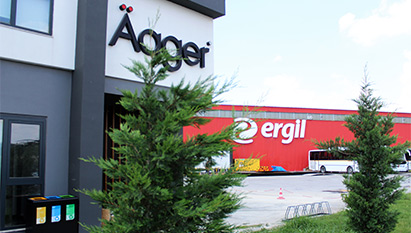 ERGIL gets endorsement from the Northern Iraqi Regional Government Ministry of Natural Resources (MNR)
ERGIL, a worldwide specialist in engineering, construction and manufacturing for oil, gas, water, chemical and petrochemical industries is pleased to announce that has been enlisted as an approved supplier & contractor by the Northern Iraqi Regional Government Ministry of Natural Resources in Erbil, Iraq. As an official party, ERGIL is now qualified to participate in Northern Iraq local tenders.
ERGIL designs and manufactures pressure vessels, surge vessels, atmospheric storage tanks and process equipment, such as separators, pig launchers, heat exchangers, industrial silencers. ERGIL's sister company Storagetech™ also provides many other products for the energy industry including storage tank equipment, such as flame arresters, breather valves, gauge hatches, floating roofs, and floating suction pipes.
Rıza Altunergil, VP Business Development of Äager GmbH commented: "The approval of Äager Brand, ERGIL will allow us to focus on emerging growth opportunities in the Northern Iraqi Region. ERGIL has a proven track report of successful execution of projects for the leading oil and gas companies such as OMV, Western Zagros, MOL, DNO, Genel Enerji, Perenco, Oryx, Shell, BP, TOTAL, ENI, Schlumberger and Petrofac, and I am very confident of ERGIL's successful growth in the region."
The Ministry of Natural Resources of the Northern Iraqi Regional Government is responsible for the development of natural resources in the region, in accordance with Iraqi Constitution articles 111, 112, 115 and 121, under the supervision of the NIR's Regional Council for Oil and Gas.
The Ministry of Natural Resources is the sole authorized signatory of production-sharing agreements with companies willing to invest in the exploration of hydrocarbons and mineral resources in the region. The ministry is also the authority awarding licenses for transportation and storage infrastructure, hydrocarbons and minerals production operations as well as refining, petrochemicals and retail operations.