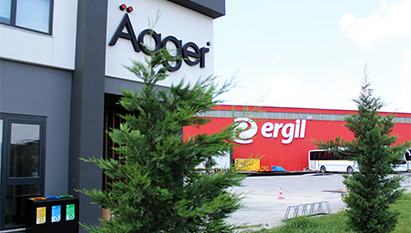 ERGIL Observes a Surge in Pressure Vessel Orders
ERGIL is a worldwide leader in engineering, construction and manufacturing for oil, gas, water, chemical and petrochemical industries. We at ERGIL dedicate our focus and staff to offering high quality pressure vessels manufactured with professionalism, expertise and customer oriented strategies. Our customers are our pride and products are our success. These recent times have seen a surge in the number of orders being received for pressure vessel in the beginning of 2016 itself.
We have manufactured and delivered number of pressure vessels to JSC OGCC KazStroyService(Kazakhstan), AOU Ventures(Nigeria), SMI(US) to name a few. ERGIL supplied Heat Exchangers, Dereator, Micro Filters and Drain Vessel to these clients. ERGIL's experience with pressure vessels has been instrumental in the successful execution of these projects despite the sluggishness in oil prices and loaming economic prices.
Its fully automated steel fabrication system and ability to design and fabricate complicated ASME U stamped process equipment ensure highest quality and quick delivery. It's 30 years of experience, knowledge in manufacturing tanks, equipment and accessories of storage tank terminals, refineries, pipelines, process and industrial plants and strategic location of its 35,000 square meter manufacturing facility enabled it to complete this complex project and deliver it with great quality of service.
Mr Nallinikanth, Business Development Manager – ERGIL says "Over the last few months, there has been an increase in pressure vessels orders from different clients in the Oil, Gas and other industries. This shows to prove that clients are emphasizing on safety and giving it high importance"