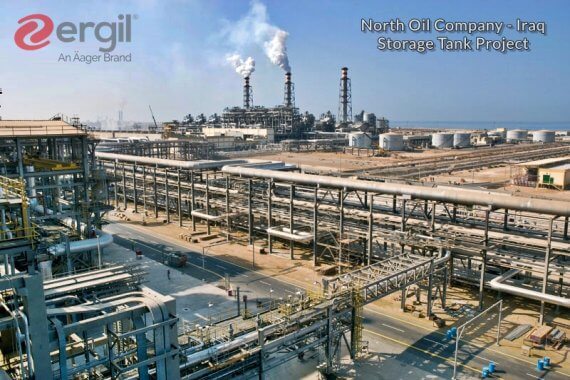 ERGIL Proudly Announces: We have provided an example of versatile vendor for NOC-Iraq
An Äager Brand ERGIL added another success to its projects; North Oil Company (NOC-Iraq), which is a subsidiary of the Iraqi Petroleum Ministry, by supplying 2 pieces of 10,000 m³ capacity, non-fixed, external floating roof, crude oil tanks.
ERGIL designs smallest and largest of the most complex atmospheric or pressure storage tanks and pressure vessels within API, ASME, EN, DIN, 2D and 3D Ghost design programs, ASME Tank, PvElite, PDMS software applications. ERGIL specializes in engineering, design, prefabrication and assembly of atmospheric storage tanks for petroleum, gas, petrochemical, chemical, water, wastewater, and metals and the mining industry in a fully integrated manner. ERGIL is able to apply API 650, API 620, API 635 standards in accordance with the capacity of 140,000 m³ to build up storage tanks, the highest quality service. ERGIL is well reputed company with its design and engineering successes through the manufacturing factory which are equipped with the latest technology equipment such as automatic welding, steel, CNC plasma cutting, sandblasting and painting machines, has successfully designed the crude oil tanks it with the design code of API 650 in a short period of 6 months.
SA 283 Gr.C. quality of these materials are prefabricated tanks; painting, twisting, welding and sandblasting operations were carried out in our factory and the installation and tests were carried out successfully in the field environment under the leadership of our experienced field supervision team. In the completion of these tanks, floating roofs are produced under our Storagetech brand; API 650 – mechanical seal for external floating roof, designed and manufactured in accordance with Annex C, foam thrower with 16 fire-fighting equipment, 4-inch roof drainage system, inner cathodic protection for increasing corrosion resistance at the bottom of tanks, foam ring piping system , water cooling system and 8-inch full radar measurement system within EN 10204-1 3.1 certification. This showed a versatile example of supply. External Floating Roof's optimal thickness material is a selection of cost-effective solution. At this point, our Technical and Engineering Manager Mr Tunç Tureli states that: 'In such projects, the basics of tank calculations are determined according to the ambient design conditions. The most important point in this environment is the accurate calculation of earthquake and wind effects.'
In particular, the external floating roof is exposed to very different loads due to direct contact with the wind. In order to ensure the balance in the system and to avoid damage of materials when such a situation occurs from the beginning. Design must be calculated from the first stage. These problems can lead to a chain reaction. First, the roof, then the seal, depending on them, and finally, the loss of the tank may be on the agenda. Because the product has a large mass, pressure and force will be high in such cases.
Another issue to be considered in the production of these grains is the turbulence and fluctuation during the earthquake and buckling during the wind. The safety of measuring instruments and connection pipes in the system is directly proportional to the correct design. Calculations should be correct as well as the correct selection of materials. As ERGIL, we produce our tanks and related equipment according to the standards of international auditing organizations.
The average 100 tons weight of the external floating roof is positioned in an optimal manner. In this context, all code calculations are carried out by ERGIL's self-tested software. On the other hand, our Project Coordinator Musa Atadan Levent adds to the cathodic protection "we use to increase the corrosion resistance: ERGIL engineering team who have accomplished more than 35 years of successful and successful projects, offer cathodic protection with 3.1 certifications. The so-called cathodic protection is actually a kind of metal protection method. Most metals are corroded as they come in contact with liquid or air. Corrosion caused the metal to become unusable by rotting in time. This means a big risk and cost at the same time in many different areas. We base this cathodic protection process on the logic of stopping the anodic reactions on the metal surface by making the metal structure to be protected into the cathode of an electrochemical cell to be formed."
Quality is a fundamental principle of ERGIL's business understanding, in which we are committed to providing world-class products, services and support to our customers. ERGIL continues its works with excellent improvement strategies after a successful process of more than 35 years. We believe that this long-term success is due to certain principles such as the improvement of talent through continuous research and development and the integrity of the successful management team.
What is the purpose of this project?
The North Oil Company (NOC), the largest state-owned company affiliated to the Iraqi Oil Ministry, has more than fifty facilities, including a large number of oil wells, with an oil refining capacity of 500,000 barrels. The field of activity is the production of crude oil and natural gas in the area where it is responsible, the transportation of the oil in the process units to the processing and export areas by pipelines and so on the owner of many fields such as events.
NOC-Iraq company to supply a storage tank to increase the storage capacity of more than 500 thousand oil refining capacity and ERGIL, which is an example of success in engineering and design as well as the supply of tanks, has a world class 35000 m2 production plant with its engineer team with high achievements. We are proud to be able to respond to the demand and complete it successfully.