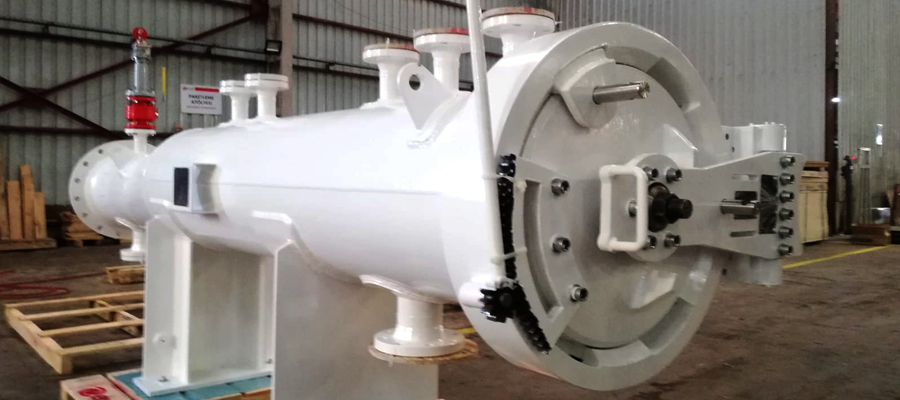 ERGIL Successfully Completed Off-Shore Pig Launchers and Receivers for Turkey's Biggest Gas Storage Project
ERGIL, a leading supplier of pressure vessels, surge vessels, atmospheric storage tanks and process equipment, such as separators, pig launchers, heat exchangers, industrial silencers, has been awarded to provide Pig Launcher with QOC, Mechanical Pig Signaler and Instrumentation for Kuzey Marmara Underground Gas Storage Expansion (Phase III) Project.
The project which was started in 2017 is significant in terms of expansion of the underground natural gas-storage facility in the Northern Marmara-Değirmenköy in Silivri district of Istanbul province. It is aimed to reach from 2.84 billion Sm3 to 4.6 billion Sm3 storage and from 25 million Sm3 to 75 million Sm3 daily withdrawal capacity. BOTAS Petroleum Pipeline Corporation (BOTAS), a subsidiary of Türkiye Petrolleri Anonim Ortaklığı (TPAO) undertook the expansion of the Kuzey Marmara facility, Turkey. In this project carried out by Kolin-Kalyon, Ergil has an important role by providing two pieces of high pressure Pig Launcher with QOC, Mechanical Pig Signaler and Instrumentation to BOTAS for the offshore platform.

"Pressure vessels used on offshore platforms require special design and quality. At the same time, the products must be at the highest level in terms of quality and ease of use. Ergil provides these standards with its PED / CE certified products and all materials used for the products are with EN 10204 Type 3.2 certificated. In addition, this equipment whose engineering, fabrication, test and certification belongs to us and included QOC Bayonet Type with Pressure Locking System and Pig Signals is completely manufactured by Ergil." says, Technical Coordinator, Mohammed Hassan.
ERGIL is known as one of the most experienced pig launchers and pig receiver manufacturers in the world. ERGIL is capable of manufacturing most advanced skid mounted pigging systems, which include a unique jacking system, handling system, and trolley, skid mounted mobile pig launcher and pig receiver systems, and environment friendly skid pigging systems.

Pipeline Equipment provides Pig Receiver & Launchers to oil, gas and liquid service and operator companies. ERGIL is capable of providing pig receivers and launchers for pipelines of any size and pressure ratings. ERGIL provides complete solutions for your pipeline related jobs, such as cleaning, drying, testing and displacement. Easy to use ERGIL launchers and receivers can be used in almost all kinds of applications. ERGIL PRL can be designed to accommodate scraper pigs, sphere pigs or "smart" pigs, or any combination of the three.