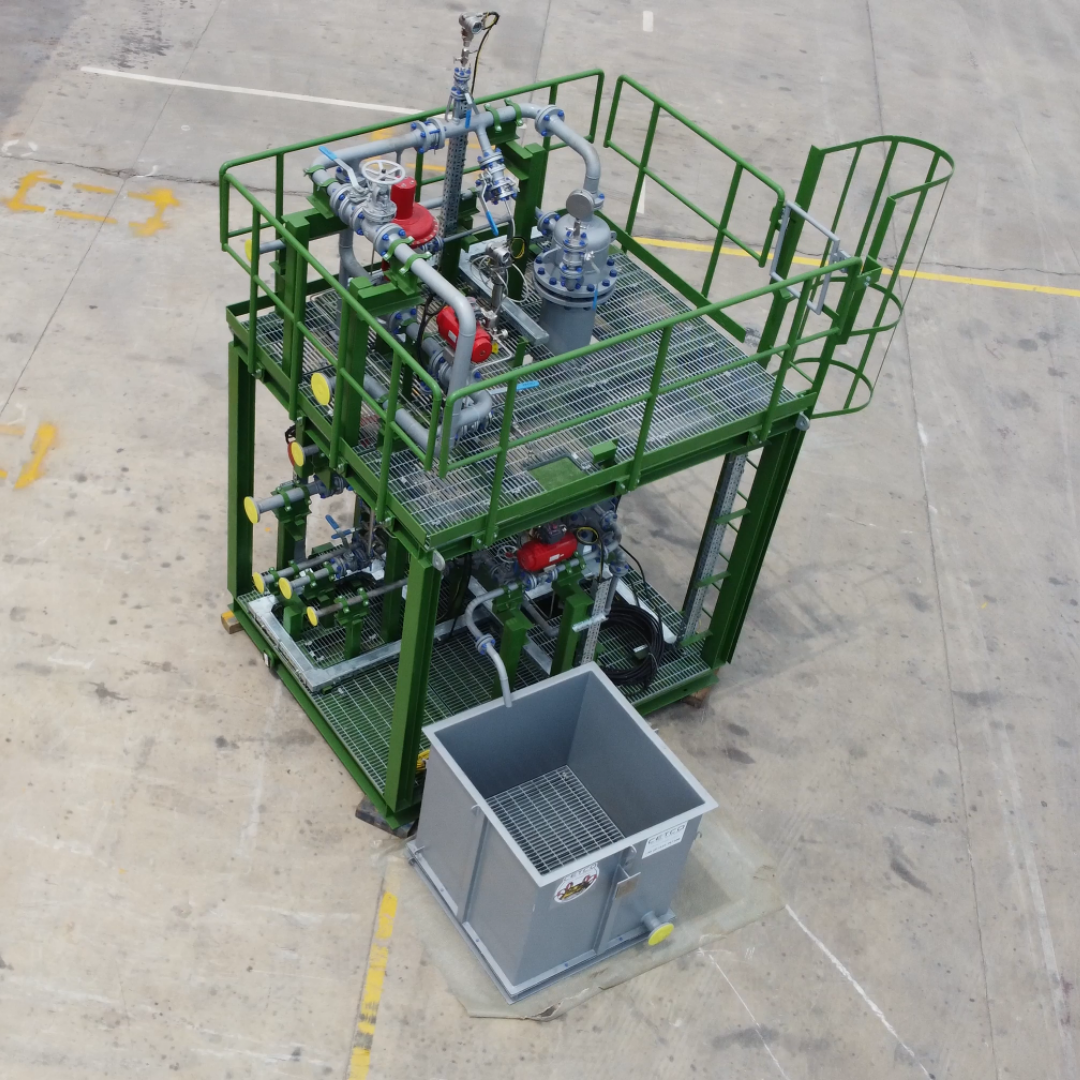 Ergil's Major Milestone for Sakarya Gas Field Development Project
Istanbul, January 1, 2023 – ERGIL leading process and static equipment manufacture successfully completed and shipped Sand Treatment Package to Turkish Petroleum Corporation (TPAO) for Sakarya Gas Field Development Project (SGFD) at Black Sea, Turkey.
This package provides uninterrupted cleaning of sand build-up from oil and gas lines. Delivering the project as turnkey solution equipment is another important point of the project. " Sand accumulation is a major problem for oil and gas pipelines. In order not to interrupt the line, various solutions have been tried to be developed against this situation. However, the line must not be interrupted during the cleaning of the accumulated sand. Any interruption on the line can cause huge time and cost losses", says Tunc Tureli, Engineering Manager at ERGIL.
Sand filter package consists of filter vessel, piping, control panel, instruments, valves cabling and steel structure. CE approved modular structure is manufactured at ERGIL's fabrication facility in Mersin, Turkey and shipped to the Sakarya Project Site directly. "This is another major milestone for our company. We are proud to support Turkish oil and gas industry and reduce its dependence on imports", says Riza Altunergil, V.P. Sales & Marketing. He also adds, " There are so many advantages of modular process systems as compare to manufacturing on site. Besides having better quality, It significantly reduces the manufacturing, testing and commissioning  time. Manufacturing and installation at site is usually slower and requires high health & safety, however manufacturing at factory is easier to control and avoids any accidents.  Filter vessel is designed as per ASME Sec. VIII Div.1 and certified according to both PED (2014/68/EU)and ATEX. System vessel is installed with heat tracing and insulated with aluminum cladding in order to avoid freezing or temperature fluctuation.
A sand de-sanding unit is a piece of equipment that is used in natural gas and oil wells to remove sand and other particulates from the produced fluids. Sand and other particles can accumulate in the well-bore during the production of oil and gas, and if left untreated, they can cause damage to the wellhead equipment and pipelines, as well as reduce the overall efficiency of the production process. The sand de-sanding unit is typically installed downstream of the wellhead and before the production fluids are sent to the process facility. It consists of one or more hydro-cyclones, which use the principles of centrifugal force and gravity to separate the sand and other particulates from the fluid stream. The cleaned fluid is then sent on for further processing, while the sand and other solids are typically disposed of in an environmentally responsible manner.
The SGFD Project aims to extract, transport onshore and process the natural gas discovered in the Sakarya Gas Field based in the exclusive economic zone of Turkey, off the Western Black Sea Region, to make it available for use by consumers. The SGFD Project is the first deep-water gas field discovery and the biggest natural gas reserve in the country. Within the scope of the Project, an annual production of 3.5 billion m3 will be achieved in Phase 1, followed by an annual production of 14 billion m3 in Phase 2, and 30% of Turkey's total consumption will be met. It is estimated that the project will start production in 2023 and the natural gas needs of approximately 2.5 million households will be met in Phase 1. With the realization of the Project, Turkey will be able to use its own resources in the near future, and thus, will decrease the share of energy in total importation significantly and make great contributions to the country's economy.
(www.tpao.gov.tr)