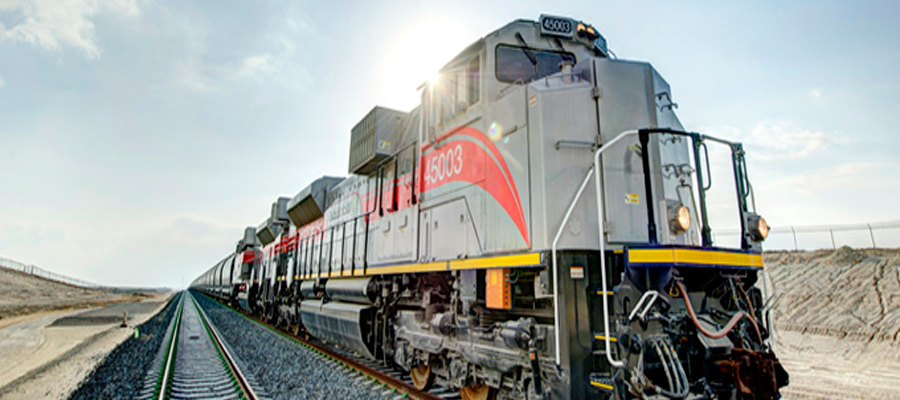 Ergil Secures a New Contract for Etihad Rail Project
ERGIL has been awarded with a new contract for design and fabrication of surge vessels for ETIHAD RAIL STAGE 2 & 3 PROJECT-PACKAGE 2F2.
ERGIL, with a dedicated and experienced staff, offering high-quality oil, gas, water process equipment manufactured with professionalism, continues to extend its references in surge vessel (water hammer) segment. ERGIL offers a wide range of custom made high and low-pressure vessels for the water, marine, processing of bulk liquids and gases; such as deaerators, absorbers, scrubbers, surge vessels, silencers, filters, process towers and columns along with shell and tube type heat exchangers.
ERGIL is supplying 12 surge vessels of different capacities ranging from 150 Liters to 3000 Liters for different locations in the United Arab Emirates for this project. The design is based on ASME Code sec VIII Div 1 and the material of construction is Carbon Steel. All the vessels are customized according to project requirements and comes with special insulation to withstand extreme desert temperatures. ERGIL surge vessels design provides optimum performance thanks to its butyl rubber bladder. Surge vessel is used for balancing the water pressure in the the cold water and treated grey water supply system of Freight Facility.
"Etihad Rail is a prestigious project in UAE which aims to link the country's centre of trade, industry and population, and will provide passenger and freight services. This rail network will be the future of freight movements as it connects with other GCC countries like Saudi Arabia. We are happy to be part of such an ambitious project and to help the contractor to solve the problems related with water hammer and pressure transients.", says project sales engineer Muhammad Shameel.
A surge vessel or water hammer is a standpipe or storage reservoir at the downstream end of a closed aqueduct or feeder or a dam or barrage pipe to absorb sudden rises of pressure, as well as to quickly provide extra water during brief drop in pressure.Surge vessels (surge tanks) are important assets in the water treatment process, though incorrect maintenance and management can lead to issues in pipelines costs and the water industry millions every year, causing burst pipes, structural damage, negative pressures and colossal water wastage. Negative pressure directly contravenes Drinking Water Inspectorate (DWI) legislation due to the risk of contamination.
About the Project and Scope:
Etihad Rail is the developer and operator of the U.A.E.'s national railway network, connecting the country's key centre of trade, acting as a catalyst for economic growth and sustaining economic development. Etihad Rail Stage 2 Package 2F2 Freight Facility includes 7 Facilities: RUWAIS, ICAD IV, Khalifa Offshore Container, Khalifa Offshore Cargo, Dubai Industrial City, Siji and Aggregate Dry Port are located in four emirates: Abu Dhabi, Dubai, Fujairah and Ras al Khaimah.
About Us
Since 1982, ERGIL has been focusing on offering high-quality services and products, with professionalism, expertise, and customer-focused strategies. ERGIL grows rapidly thanks to its growing number of dedicated employees and expanding facilities. ERGIL currently operates in one of a kind 35,000 sq/m manufacturing facility in Mersin, Turkey, which enhances its advanced manufacturing capabilities and services.
ERGIL is ISO 9001, 14001, OHSAS 18001, ASME U-4, S-2, R Stamp accredited and has CE/ ATEX certificates for its storage tank products. Storagetech manufactures storage tank equipment, such as flame arresters, breather valves, gauge hatches, floating roofs, and floating suction pipe. ERGIL also provides many other products for energy industry including surge vessels, bladder tanks, pig launcher and receivers, heat exchangers, separators, oil and gas storage process tanks, filters and firefighting systems.
ERGIL has developed an excellent reputation internationally in the industry due to its total commitment to quality in every aspect of the business. Beginning with raw materials through process production and delivery, ERGIL has always insisted on the highest possible quality associated with the product lines.
For further information, please visit www.ergil.com or feel free to message me. I will be pleased to offer support and answer any questions you may have.