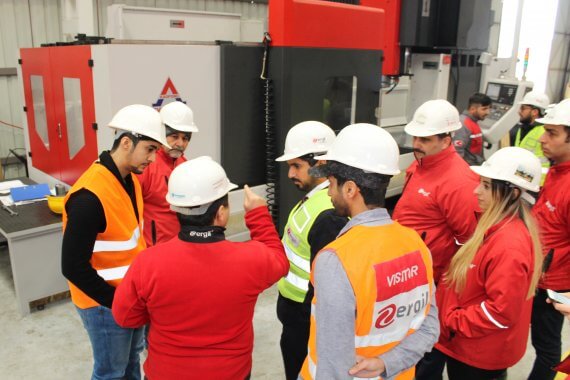 ERGIL Successfully Received Approval of ''Product Pre-Qualification'' for Surge Vessel from ADWEA
ERGIL, was successfully pre qualified for supply of surge vessels by the Abu Dhabi Water and Electricity Authority (ADWEA)
Key strenghths that enabled ERGIL to become pre-qualified by ADWEA were, its long experience with surge vessels, hi-tech manufacturing facility, well-qualified engineering team, the international standards it abides by and unique design codes it uses, such as ANSI, AWS (American Welding Society) API, ASCE, CE, PED, DIN, ISO, ASME, ASTM, NACE INTERNATIONAL, NFPA, and UL ERGIL successfully uses in-house software basis surge analyses with its expert engineering team. These softwares are Water Surge System Analysis, Pipeline Network Sizing, Water Hammer and Transient Analysis.
ADWEA is a part of the Abu Dhabi Department of Energy, which implements various programmes, initiatives, and projects with the aim of achieving a sustainable society in the Emirate of Abu Dhabi.
ADWEA is regarded as one of the largest governmental institutions in terms of services rendered and projects executed. Thus ADWEA is the leading driver of growth and evolution of the Emirate of Abu Dhabi.
What makes ERGIL a pre-qualified manufacturer of Surge Vessels?
ERGIL, an ASME U / R Stamp certified company, provides that all design calculations and client requisitions are resolved by its in-house engineering services. ERGIL's engineering team has expertise in performing the below listed analyses:
• Analysis of vessels, water skids, compression skids, injection skid base frames, pipeline equipments, etc.
• Fatigue Life Cycle estimation
• Buckling Analysis
• Creep Analysis
• Static and Dynamic Foundation Loading Analysis
• Piping Stress Analysis
• Finite Element Analysis(FEA)
• Computational Fluid Dynamics Analysis (CFD)
• Design and Detailing of Fire-fighting Protection Equipments
Pre-qualification is vital to be chosen as a supplier of surge vessels by the operators from with no doubt.